ZO SKIN HEALTH INC.®
ZO SKIN HEALTH INC.® By Zein Obagi MD
Founded by Dr. Obagi in 2007, ZO Skin Health, Inc.® was created to provide physicians and patients with the world's most innovative and effective skin health solutions. As Medical director of ZO Skin Health INC.®, Dr. Obagi has created products with technologically advanced ingredients and even more effective formulations, designated into two categories: ZO® Skin Health and ZO® Medical. ZO® Skin Health products maintain the results of therapeutic treatments and provide effective daily skincare and protection from the environment, while ZO® Medical products have been optimized to treat a range of skin disorders and chronic conditions.
LIMITED COLLECTION MICRO-FACIAL PROGRAM
A limited collection offering designed to restore softer, smoother + naturally radiant skin without irritation or downtime. Ideal for all skin types, the program also helps to support results of in-office treatments. Key benefits include:
Sweeps away dead surface cells + debris for immediately smoother + softer skin
Low-concentration AHA renews, brightens + clarifies for maximum radiance
Minimizes the appearance of redness
Revitalizes dehydrated skin
ZO ANTI-AGING PROGRAM
This moderately aggressive program made with highly advanced anti-aging ingredients and technologies is designed to help reduce the appearance of early or significant signs of environmental and chronological aging. The Anti-Aging Program uses potent ingredients, concentrated formulas and aggressive delivery systems to improve and strengthen skin's appearance and protect against future damage. It is specifically formulated to:
Help reduce the appearance of fine lines and wrinkles
Promote a more even-looking skin tone and finer pore appearance
Preserve and maintain a more youthful-looking complexion
Help prevent future skin damage by protecting against harmful effects of the sun
PIGMENT CONTROL PROGRAM + HYDROQUINONE
This 6 product program is an all-encompassing system formulated to target hyper-pigmentation, severe texture damage, and sun damage. The key benefits include:
Treats moderate to severe hyper-pigmentation, especially melasma
Treats severely dry, dull, rough and leathery textured skin to help restore a smooth, healthy glow
Great to use as pre/post procedure skin conditioning to help maintain results longer
Helps improve overall appearance and quality of skin
What People Say About Us!
Everyone in the office is great! Wouldn't go anywhere else. Made for a perfect experience.
Click here to read more reviews.
SKIN NORMALIZING SYSTEM
The ZO® Skin Normalizing System is a complete selection of products for red, sensitized skin. This system features Rozatrol®, a multi-modal serum for red, sensitized skin. The key benefits include:
Helps to restore skin to a more radiant appearance
Provides mild exfoliation to help smooth skin texture and even skin tone
Helps replenish hydration and supports a healthy skin barrier function
gENTLE CLEASNER - ALL SKIN TYPES
This fresh-foaming formula contains glycerin, meadowsweet and green tea. It deep cleans pores and dissolves excess oil with hydrating, anti-inflammatory and anti-oxidant benefits. It cleanses impurities for refreshed-feeling skin. What are the benefits?
Deeply cleans to remove oil, makeup and other impurities
Silky gel formulation is ideal for all skin types
HYDRATING CLEANSER - nORMAL TO DRY SKIN
A unique formulation that gently cleans and conditions the skin while setting the stage for effective treatment. The key benefits include: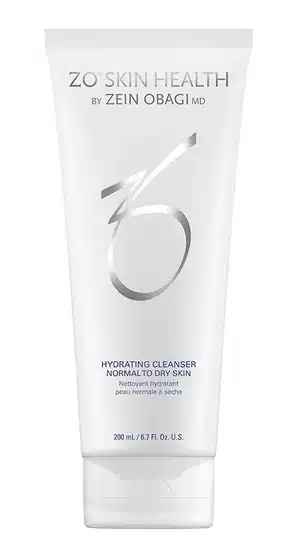 Sulfate-free
Effectively cleans, hydrates and soothes skin
Rich, creamy formula rinses clean without leaving any residue
eXFOLIATING CLEASNER - NORMAL & OILY SKIN
This dual-action cleanser/exfoliator targets excess oil and impurities to purify skin and help prevent and clear acne. It refines the complexion, reduces the factors that contribute to skin irritation and helps decrease the level of bacteria on the skin's surface. Clears away surface oil and impurities without leaving skin feeling stripped or dry. The key benefits include:
Helps to keep pores clear to minimize the frequency of breakouts
Purifying gel formulation provides both physical and chemical exfoliation benefits
INTENSE EYE REPAIR
Targeted eye treatment formulated to help repair and prevent signs of aging. Perfect for all skin types.
Helps diminish the appearance of fine lines and wrinkles
Optical light diffusers reflect light to minimize imperfections
Protects against free radical damage
Helps reduce puffiness and discoloration
Minimize the multiple signs of aging, including puffiness, dark circles and fine lines.
dUAL ACTION SCRUB
Dual chemical and physical exfoliation gently clears breakouts while leaving skin exceptionally smooth and radiant The key benefits include:
Provides both physical and chemical exfoliation benefits
Reduces surface oil
Ideal for use on face + body
eXFOLIATING POLISH
This skin-smoothing scrub contains ultra-fine magnesium crystals to exfoliate dead skin cells and increase epidermal turnover for a clear, smooth and even-toned complexion. Vitamins A, C, E, and C esters provide antioxidant benefits to help maintain the skin's barrier function. Gently removes dead skin cells to instantly reveal smoother, softer + glowing skin. The key benefits include:
Physically exfoliates off dead skin cells and other debris to improve skin radiance
Magnesium oxide crystals wash away clean, leaving skin instantly soft and smooth
CALMING TONER PH BALANCER
This calming toner is designed to invigorate dry, weak skin. It also removes impurities and balances the skin's pH to optimize the penetration of therapeutic treatments. It helps calm and refresh the complexion. Key benefits:
Infuses sensitized + weak skin with lightweight hydration post-cleansing to support skin barrier function
Soothes skin
cOMPLEXION RENEWAL PADS
The complexion renewal pads are used to remove excess surface oil and pore-clogging debris. What are the benefits?
Helps to brighten skin and clarify pores
Non-drying formulation
OIL CONTROL PADS ACNE TREATMENT
The Oil Control Pads Acne Treatment is a triple acid treatment toner reduces the formation of acne, normalizes oil and the appearance of pore size. The benefits will include:
Decongests pores, reduces breakouts and brightens post-acne marks
Targets excess oil to mattify skin
Minimizes the appearance of pores
DAILY POWER DEFENSE
Daily Power Defense has been elevated with ZO's exclusive technologies – including new ZPOLY™ complex – to enable a long-lasting, youthful and healthy skin complexion. This advanced serum is clinically proven to strengthen skin's protective barrier while defending against environmental stressors and premature signs of aging. Benefits include:
Defends skin against oxidative damage from free radicals
Visibly reduces signs of premature aging
Accelerates barrier restoration + extended skin hydration
Supports continuously healthy skin
10% VITAMIN C SELF-ACTIVATING
The 10% vitamin C that brightens skin, promoting a more even skin tone and minimizing the appearance of fine lines and wrinkles. Our favorite benefits include:
Helps minimize the appearance of surface discoloration
Powerful antioxidants help defend against environmental triggers
Helps minimize the appearance of fine lines and wrinkles
RADICAL NIGHT REPAIR
The Radical Night Repair is formulated with 1% retinol to help improve the appearance of skin texture, uneven pigmentation and fine lines and wrinkles. The key benefits are:
Helps improve the appearance of skin's brightness and provides a more even skin tone
Helps calm and soothe the skin
Helps minimize the appearance of fine lines and wrinkles
gROWTH FACTOR SERUM - ONE OF OUR FAVORITES!
This lightweight gel for all skin types that helps minimizes the appearance of expression lines + wrinkles. Additionally, a combination of retinol and amino acids stimulates cellular function, reduces collagen degradation and restores elasticity. This serum is formulated with a combination of plant and enzymatically derived growth factors, clinically proven to:
Improve overall appearance of skin
Reduce appearance of fine lines and wrinkles
Restore hydration and reinforce the skin's protective barrier
eNZYMATIC PEEL
This at-home peel formulated to create a softer, brighter skin appearance. The benefits are:
Helps smooth uneven, rough textured skin
Revitalizes dull looking skin
Improves the visible signs of sun damage
Enhances the benefits of any ZO® Treatment
EXFOLIATION ACCELATOR
The glycolic acid treatment that aids in the removal of dead skin cells while providing calming and soothing benefits with an aloe and chamomile blend. Our favorite benefits:
Provides gentle yet effective exfoliation of dead skin cells
Helps soothe and support skin
wRINKLE + TEXTURE REPAIR

Featuring a microemulsion delivery system, Wrinkle + Texture Repair is a high-potency retinol that restores natural hydration, visibly improving the appearance of wrinkles and refining skin texture. The benefits are:
Helps reduce the appearance of lines + wrinkles
Supports the appearance of smooth skin texture
Improves skin function and the skin's ability to retain hydration
iLLUMINATING AOX SERUM
A concentrated antioxidant serum that provides protection against pollution + premature signs of aging while visibly brightening the skin with a subtly luminous, soft-focus finish. The benefits are:
Delivers advanced, all-day environmental protection, including proven pollution defense
Visibly reduces premature signs of aging
Supports continuously healthy skin
Restores youthful luminosity to dry + dull skin
Blurs imperfections for a smooth finish
INSTANT PORE REFINER
This lightweight serum minimizes the appearance of pores. It features a dual-action formula which works to eliminate surface shine for an instantly matte finish. The benefits include:
Refines the appearance of enlarged pores
Minimizes the amount of oil on the surface of the skin for a shine-free, matte appearance
Smoothes skin texture and minimizes the appearance of imperfections on the skin
Works to exfoliate dead skin cells around pores, helping to prevent congestion, which can lead to breakouts
bRIGHTALIVE® SKIN BRIGHTENER
A technologically advanced skin brightener clinically proven to increase luminosity, visibly improve skin clarity and fade the appearance of dark spots for a brighter, more even complexion. Non-hydroquinone and non-retinol. The benefits include:
Helps to fade the size and intensity of dark spots
Improves luminosity, clarity and overall skin quality
Delivers lightweight hydration
Mild, gentle formula
rETINOL SKIN BRIGHTENER (0.5% & 1%)
A retinol-based solution clinically proven to rapidly improve the appearance of uneven skin tone for a brighter, clearer and smoother complexion. The benefits include:
Promotes exfoliation to eliminate uneven skin tone and improve skin smoothness
Supports skin's resiliency against future discoloration aggressors
Specially encapsulated to deliver a targeted, controlled release of retinol for maximized brightening
Contains calming + soothing properties for improved product experience
pIGMENT CONTROL CRÉME
This crème contains 4% hydroquinone and glycolic acid to correct pigmentation disorders, promote even skin tones and mitigate pigment-forming irritations. The leading benefits are:
Gradual skin bleaching of hyperpigmented skin conditions – chloasma, melasma, freckles and other unwanted hyperpigmentation
Helps reduce irritation associated with hydroquinone
Hydrates newly exposed skin
pIGMENTCONTROL + BRIGHTENING CRÉME
Containing a powerful blend of 4% hydroquinone and 20% vitamin C, this bleaching and correcting crème treats the most severe and advanced forms of skin hyperpigmentation. The leading benefits are:
Maximum treatment for melasma, freckles, senile lentigines, and other unwanted areas of hyperpigmentation
(4%) hydroquinone provides pigmentation reversal and inhibition
Helps enhance brightening of skin
Helps maximize the appearance of even skin tone
RENEWAL CRÉME
A lightweight, fast-absorbing hydrator for mild dryness + redness, clinically proven to revitalize the appearance of stressed skin. The major benefits are:
Promotes rapid moisture replenishment with a weightless feel
Supports a healthy protective barrier to enable a more uniform + healthy appearance
Visibly softens fine, dynamic lines
Fragrance-free
rECOVERY CRÉME
A luxuriously rich hydrator for moderate dryness + redness, clinically proven to rejuvenate the appearance of fragile skin, including neck aging. What are the benefits?
Rapidly restores moisture for smooth + supple texture
Promotes skin's resiliency while calming visible redness
Visibly softens fine, dynamic lines
Clinically proven to improve the appearance of neck aging
Fragrance-free
hYDRATING CRÉME
Temporarily relieves symptoms of severely dry skin while calming skin to soothe visible irritation and replenishing skin's natural moisture to aid in skin recovery. The benefits are:
Restores hydration and soothes the appearance of visible redness
With continued use, patients reported that their skin felt healthier and smoother, and was more hydrated and less red
rOZATROL® TREATMENT FOR RED, SENSITIZED SKIN
This is a serum for red, sensitized skin that works to reduce excess surface oil. Exfoliating properties provide ultra-mild exfoliation to encourage cellular turnover and reduce the signs of premature aging. The benefits are:
Advanced amino acid complex helps to restore skin to a more radiant appearance
Provides mild exfoliation to help smooth skin texture and even skin tone
Antioxidant protection
Helps replenish hydration and support healthy skin barrier function
sMART TONE BROAD-SPECTRUM SUNSCREEN SPF 50
A lightweight sunscreen with a self-adjusting tint that complements most skin tones while providing a healthy, hydrated glow. Featuring an exclusive antioxidant complex while protecting against the aging effects of UVA/UVB, IR-A rays and HEV light. Why do we love it?
Provides broad spectrum UVA + UVB protection
Provides additional protection against high-energy visible (HEV) blue light
Helps to protect skin from free radical damage and the appearance of photodamage
Gives skin a healthy, hydrated glow
sUNSCREEN + pRIMER BROAD-SPECTRUM SUNSCREEN SPF 30
This dual-action sunscreen, with ZOX12® complex, protects against the damaging effects from UVA/UVB and IR-A rays, and from HEV light. Hydrates and doubles as a makeup primer for a smooth matte finish, diminishing skin imperfections. The benefits are:
Exclusive 12-hour, time-release ZOX12® antioxidant complex, guards against photodamage
Provides daily multi-defense protection from UVA, UVB and high-energy visible (HEV) light
Can be used alone or worn under makeup for a more even, long-lasting application
Helps to smooth the skin and diminish the appearance of fine lines
iNTENSE EYE CRÉME
Targeted retinol eye crème to reduce visible wrinkles and fine lines while improving overall complexion and skin texture. Optical diffusers reduce look of dark circles and puffiness. What makes this unique?
Helps diminish the appearance of fine lines and wrinkles
Optical light diffusers reflect light to minimize imperfections
Visibly protects against free radical damage
eYE BRIGHTENING CRÉME
Specially designed for the delicate eye area. Helps minimize the multiple signs of aging, including puffiness, dark circles and fine lines. The benefits include:
Helps support skin's elasticity
Helps reduce the appearance of puffiness
Softens the appearance of fine lines
fIRMING SERUM - MUST HAVE!
An anti-aging breakthrough in skin structure + shape. This mild, lightweight and tolerable formulation is indicated for all skin types and sensitive skin areas to reinforce skin health and hydrate to support the visible improvement in skin elasticity and firmness. Seriously, we love this! What are the benefits?
Visibly tightens and firms the skin
Improves the appearance of sagging and skin laxity
Helps define facial contours
Supports the appearance of healthy skin and the skin's natural renewal process
Defends against free radical damage
cELLULITE CONTROL BODY SMOOTHING CRÉME
A breakthrough blend of ingredients works around the clock to minimize the appearance of thigh contour and the visible signs of cellulite. Visibly smooths hips, thighs and buttocks for a slimmer appearance. Benefits:
Smooths skin and helps diminish "orange peel" appearance
Provides the appearance of a slimming and toning effect
Restores hydration
bODY EMULSION
This multi-action body crème that improves quality, smoothness and overall appearance of healthy skin. Why should you get this?
Exfoliates dead skin cells to soften and smooth skin texture
Restores hydration
Exclusive 12-hour time-release antioxidant complex
Helps even skin tone